Century Contractors Achieved National Eagle Award
May 16, 2015
Century Contractors was awarded the prestigious Associated Builders and Contractors (ABC) National Eagle Award and the Carolinas Associated Builders and Contractor's (CABCC) Eagle Award for our Nephron Pharmaceuticals' project. Century Contractors served as the mechanical, plumbing, high purity process and plumbing contractor for Nephron Pharmaceuticals' $313,000,000 Manufacturing Facility in West Columbia, SC. Our $26,300,000 scope of work for the 473,000 square feet facility included the Central Utility Plant, Manufacturing, Packaging and Reception buildings. The systems included producing 3,700 tons of chilled water, 27,600 pounds per hour of high and low pressure steam, building automatic temperature control/building automation systems, distributing chilled water, heating hot water, steam, condensate, medium and low pressure duct, exhaust (general, vacuum, fume hood) duct, make-up air duct, high purity process piping, clean air process equipment and piping, process waste, sanitary waste, storm and domestic water. Century Contractors also provided installation of Nephron Pharmaceuticals equipment including process equipment, vessels, pumps, drives, bulk storage tanks and process waste tanks.
The National and Regional Excellence in Construction awards are designed to publicly recognize the quality, safety and innovation of merit shop construction and to promote ABC and ABCC's belief that a construction project where the choice of contractor and subcontractor is based on price, ability and performance – without regard to labor affiliation – produces the highest quality and most cost-effective project. The award honors all members of the team responsible for the award-winning project, from contractors, subcontractors and suppliers, to owners and architects. By focusing on these criteria, ABC and ABCC calls attention to the "best of the best" and continues to raise standards throughout the construction industry. Projects are judged on complexity, attractiveness, unique challenges overcome, completion time, craftsmanship, innovation, safety, and cost.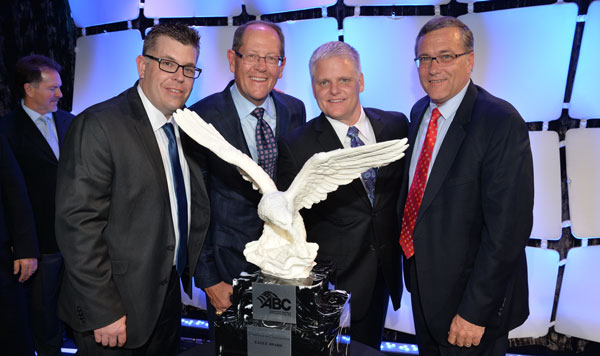 ---
Century Contractors Inc. Earns National Excellence in Construction Award from Associated Builders and Contractors
Washington, D.C. – Associated Builders and Contractors (ABC) announced that Century Contractors Inc.'s work on the Nephron Pharmaceuticals project in West Columbia, S.C., has earned the company an Eagle Award in the Mechanical category of ABC's Excellence in Construction Awards. Representatives from the company received the award March 5 during the 25th annual Excellence in Construction Awards celebration in Ft. Lauderdale, Fla.
"Century Contractors and their team truly embraced the values of ABC and merit shop construction—innovation, quality and safety—in building Nephron Pharmaceuticals and that's why I'm honored to award them with an Excellence in Construction Eagle Award in the Mechanical category," said 2015 ABC National Chairman Pamela Volm, president of Annapolis Contracting, Inc., Annapolis, Md. "This project is an outstanding example of how teamwork and quality craftsmanship and perseverance can result in a project that we are called to claim as merit shop."
After being awarded this pharmaceutical manufacturing project at the 65 percent design stage, 3-D BIM coordination allowed Century to successfully install FDA-approved mechanical, high purity and plumbing systems while incorporating several scope additions and design changes.
The Excellence in Construction awards program is the industry's leading competition, developed to honor innovative and high-quality merit shop construction projects. The award honors all construction team members, including the contractor, owner, architect and engineer. The winning projects, selected from entries submitted from across the nation, were judged on complexity, attractiveness, unique challenges overcome, completion time, workmanship, innovation, safety and cost.
A panel of industry experts served as the competition's judges. This year's panel included representatives from the Design-Build Institute of America, Engineering News-Record, the American Institute of Architects, and the National Association of Women in Construction, and representatives from higher education, among others.
Associated Builders and Contractors (ABC) is a national construction industry trade association representing nearly 21,000 chapter members. Founded on the merit shop philosophy, ABC and its 70 chapters help members develop people, win work and deliver that work safely, ethically, profitably and for the betterment of the communities in which ABC and its members work. Visit us at www.abc.org.